Prof. Dr. med. Albrecht Molsberger on Axomera
Axomera – the name comes from axolotl – is a new type of therapy system that is being used by more and more medical specialists for the conservative treatment of orthopedic, sports medicine and sometimes severe pain disorders.


Axomera applies electric fields with pinpoint accuracy similar to those of the axolotl, which is known to be capable of replacing extremities and entire organs.


The goal of axomere therapy is to stop pain, accelerate regeneration, or initiate it in the first place.


As with the axolotl, the cells should be directed to where they are needed to heal.
In Germany, Switzerland, Austria, Spain – here you will find
Axomera doctors for your disease!
Pain toes, foot: Morton neuralgia
Cluster headache: infinitely grateful
Tennis elbow: great progress
Achilles tendon inflammation
"For years I have suffered from discomfort in my forefoot, which has been diagnosed as Morton's neuroma. The visit to the classic orthopedist with the classic injection therapy also only helped in the very short term…After 5 treatments, however, it got better and better, now it's so good that I can run around 100 km every week…"
"In the course of a seemingly endless – over five months – cluster headache episode, I came across Axomera therapy…. I am infinitely grateful and my joy of life returned a little more after each treatment. It's an indescribable feeling."
"With 12 sessions of physical therapy, pain improved only minimally for a small window of time. After four months, Axomera therapy was recommended to me and already after 3 sessions in 15 days, the symptoms are much better for the first time."
"A tremendous improvement occurred as a result of the therapy. Can walk again for a longer time without pain…
Before that, walking was only possible with pain and even at night when resting, the throbbing pain was there. I can only recommend the method and the doctor and thank him for a new quality of life."
Axomera is now officially represented in Spain!
Axomera is now also available in Spain. Axomera made its Spanish debut at the SEMDOR Congress in Seville in June 2023, the largest event for sports orthopedics and pain management.
Prof. Dr. med. Albrecht Molsberger and Dr. Francisco Sánchez Valverde reported on their experiences with the Axomera Neuromodulation System.
Microinvasive PBCS (Axomera
®
)-Therapy vs. surgery for hamstring injury?
This issue of "Sportärztezeitung" deals with the topic of method selection in the treatment of muscle tears in competitive sportsfrom the perspective of modern medical research.
Philipp Schröder, MD, reports on his experience with Axomera therapy in the treatment of a 53-year-old Competitive athlete. The latter had previously sustained a hamstring injury (avulsion of the m. biceps femoris).

Lower Rhine Sports Medicine Symposium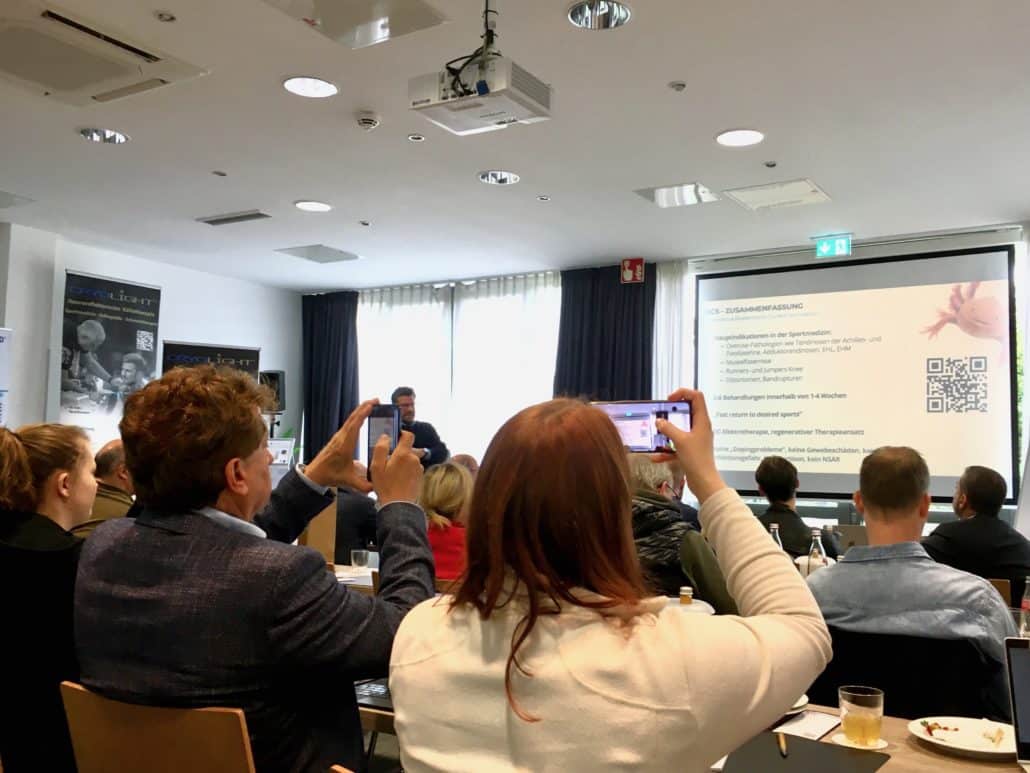 On April 29, the 3rd Lower Rhine Sports Medicine Symposium took place in Krefeld. About 70 sports medicine professionals attended the event.
Doctors Philipp Schröder and Florian Sänger presented Axomera as a new, non-surgical, innovative method for treating orthopedic problems in athletes for whom a rapid "return to sport" is of paramount importance.
For specialists:
Axomera in your practice
Experience therapy successes you never thought possible!
Make your practice a patient magnet!
Axomera – let yourself be inspired every day!